• cards
Introducing a new card collection by Bewilderbeest.
 Funny cards such as 
'You're so Alluring - I'm Hooked' 
makes a 
funny choice for
 Valentine's Day.
---
See new Vicki Sawyer mugs and kitchen towels that have arrived, such as 'Out of My Gourd" and 'Sophie' the fox, and 'Clive' the Kestral.
---
HOSTESS GIFT IDEA:
 Show your appreciation to the hostess, or when presenting friends and family with this decorative matches set gift, complete with a reusable decorated match box.
---
• vacation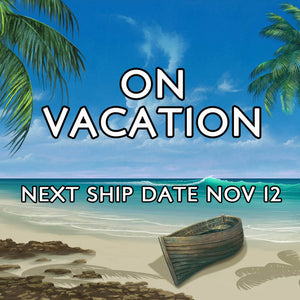 WE ARE GOING ON VACATION! The Verde Birdie online shop is still open for orders and the next ship date is 
November 
12, 2022.
---
Meet PAT. a new design by Vickie Sawyer. If you or your friends love hummers, this cotton kitchen towel is for you!